2009 challenges that I am participating in.
Contemporary Romance Challenge
hosted by
Brie
Rules:
1. Any contemporary romance of your choice is eligible. By contemporary I mean any book placed in a contemporary setting with no paranormal elements.
2. Read at least one contemporary romance a month and post a review for that book within the month. I haven't set a unified date because I'm not good at sticking to dates, and having no monthly time limit should ensure that everyone in the challenge is able to read at least one contemporary a month.
3. After posting your review leave a link to it in the comment section of the monthly Contemporary Romance Challenge post that will go up here on Musing of a Bibliophile once a month. This will make it easier for me and anyone else interested to find your review.
Note: So that the post to link your reviews to does not get lost in the rest of the posts for that month, there will be a link to it on the side bar. The challenge runs from January 2009 - December 2009.
2009 Re-Read Challenge
hosted by
Nath
Rules:
1. The book you choose for the challenge must be one that you've already read :D
2. Review must be posted on the last day of the month.
3. At the end of each month, I'll put up a post for the Re-Read Challenge. Please post the link to your review in the comment section - this way, it'll be easier to keep track of all reviews so everyone can find them easily and enjoy them :D
To sweeten the deal, I'll give away a 10$ gift certificate each month to one challenger. I'll draw the winner among the challengers who will have posted their review link as requested in rule #3. The gift certificate is to whichever bookstore the winner wants, provided that I can purchase the gift certificate online and send it by e-mail.
Year of the Category
hosted by
KMont
Rules:
1. Book reviews can be posted any time during the last week of each month. I want this to be as relaxed as possible, so no set day other than during that week.
2. You can choose a new or old category romance to read/review from ANY of Harlequin or Silouhette's lines. I've been perusing the line names on their ebook site. So Harlequin Blaze, Historical, Presents, Superromance or Silhouette Desire, Nocturne, etc. - it all goes.
3. Please indicate clearly in the title of your review that it belongs with this reading challenge. Elsie's Year of the Category #2, or Year of the Category: The Billionaire Boy Band's Drummer and the Waitress Who Served Him.
4. No restrictions or any such nonsense on the reviews - write 'em however you want, but I would appreciate efforts made at more than a three-line paragraph.
5. Please link back to this post when you do a Year of the Category review or I may post a list of participants and you can link that one if you prefer.
The Windflower World Tour
hosted by
Ciaralira
and The Book Smugglers
Follow The Windflower as it makes its way around the world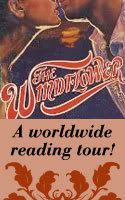 TBR Challenge 2009 hosted by
Keishon
Rules:
Rules are the same as before, 2007 and back, the older the title the better. No penalty for reading 2008 books if that is all you have. No 2009 reads (nope).
Books can be of any genre, fiction, non-fiction, graphic novels, etc. The day to post your review will be every third Wednesday of the month with reminders from me the week before or the week of if time gets away from me. I will keep a separate page of participants like before and again, this is all voluntary. Readers can continue to join even after the challenge has started.
I decided to assign a particular challenge for each month with the default being that if you can't do the assigned challenge, you can read whatever you like from your TBR pile and post your review as per usual. I wanted to shake things up a bit, make you all dig these books out of your stacks. No purchase is necessary to participate in this challenge (so please don't run out and buy a book just to participate…unless you want to).
We will officially start January 2009 (dates will be posted this weekend) and here are the assigned challenges:
January It's all about the category, baby. Harlequin, Sil. Intimate Moments, Harl. Blaze, Harl. Presents. A lot of readers have been enjoying some great category titles of late. Hey, they're quick reads, too! Did you buy any of them last year and didn't read them? Now is your chance. Don't have any? Grab a book out of your stacks and get to reading, you're not excused.
February Find a DIK review book at AAR that you bought and read it. We've all bought some of these books and now is the time to see if they truly are DIK. Let's demystify some of these claims or validate them. Any genre. Don't have one (really?), just grab a book and read it.
March This month is dedicated to the historical novel (and dying breed). Do you have a good historical novel just lying around that you really, really, really want to read? If you don't care to read a historical, follow the procedure as stated above, just grab a book out of your stacks and read it.
April Urban fantasy, fantasy or SFR…ohhhh, Patricia Briggs, Ann Aguirre, Charlaine Harris to name a few. Did you buy any of their stuff and didn't read it yet? Now is your chance and if you're already caught up, just pick a book out of your stacks and read it with the rest of us.
May Ok, challenges get more specific. For the month of May, pick a book that has a friends to lovers theme or some variation to it. All of us have these somewhere in our stacks and if not, you know what you need to do (see above).
June Tortured heroes are my favorite! They are usually found in historicals but see if you can find a tortured guy in your stacks or a tortured heroine (they're even rarer!). Read and review it and if you have no luck with finding such a hero in your huge, humongous stacks, just grab a book and read it.
July Wrongfully accused or just released from jail theme books are another favorite of mine. I always seek these out and I may have to do some rereading for this month as there are some real good ones out there that I've read but I think I should have some in my stacks. If you don't have such a book in your huge mountain of books, you know what you need to do (see above).
August Ok, I'm going to start assigning authors - Julie Garwood, Liz Carlyle, Judith McNaught, Nora Roberts, Johanna Lindsey, Connie Brockway, Laura Kinsale, Mary Balogh, Carla Kelly, Joan Wolf - own any of these author's books and haven't read them yet? Now is your chance. Already caught up - you know what you need to do.
September Linda Howard, Elizabeth Hoyt, Joanna Bourne, Sherry Thomas, Meljean Brook, Lois Bujold, Shanna Abe, Penelope Williamson, Jayne Ann Krentz, Amanda Quick, Rachel Gibson, Victoria Holt, Mary Stewart, Sandra Brown, Loretta Chase or whoever else you have in your stacks and you just haven't taken the time to read them yet.
October Horror. Yep. Stephen King, Dean Koontz, or whoever else you have in your TBR stacks and if you don't want to read anything scary, you know what you need to do.
November Turkey day. Find a book that has a Thanksgiving theme (good luck with that!) or if you can't find a book that does have a turkey theme, just grab a book out of your stacks and read it.
December Easy. Christmas themes and if you're like me and can't stand Christmas themed stories, just grab a book out of your stacks and read it. Congratulations, you've completed this year's challenge.
2009 Young Adult Challenge hosted by
J. Kaye
Rules:
1. Anyone can join. You don't need a blog to participate.
2. Read 12 Young Adult novels. No need to list your books in advance. You may select books as you go. Even if you list them now, you can change the list if needed.
3. Challenge begins January thru December, 2009.
4. You can join anytime between now and December 31, 2009.